Meet Dr.
Twaddell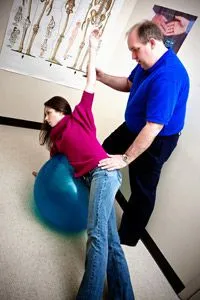 Dr. Robert Twaddell has been helping people to lead healthier, more energetic lives, since 1996. He receives rave reviews, and is especially thankful for the numerous referrals they receive from satisfied patients and our local Fayetteville health professionals as well.
Dr. Robert developed A Healthy Back for the communities and families of Cumberland County. The stresses of work and everyday life have an extremely deleterious effect on the body. The Doctor is dedicated to helping teach patients how to cope better with these stresses, and also towards living a healthier lifestyle. In order to achieve this goal, A Healthy Back utilizes the most beneficial and up-to-date chiropractic techniques. These techniques are both manual (and traditional), and computerized (non manual or low force). At AHB you will also find cold laser and acupuncture for pain management, along with various other physio-therapeutic techniques.
Dr. Robert attended Springfield College which he received his B.S. in Sports Biology and National College of Chiropractic in which he received a B.S. in Human Biology and his Doctor of Chiropractic (D.C.) degrees. National College of Chiropractic is one of the most challenging scientific based colleges in the world. There they worked firsthand with some of the nation's foremost physicians in the fields of radiology, orthopedics, neurology and rehabilitation.
Prior to Chiropractic College Dr. Robert worked in emergency medicine as an Emergency Medical Technician and an Athletic Trainer.
A Healthy Back believes in restoring patients to their optimal health in the shortest period of time. If you would like more energy, less stress, better health and to start your body back on the track to wellness, please call Dr. Robert Twaddell at A Healthy Back today.
In 2013, Dr. Twaddell was the first chiropractor in Cumberland County to become a Nationally Registered Medical Examiner thru the FMCSA. He helps companies with their mandated requirements for medical examinations and drug / alcohol services. His occupational clinic also evaluates for sleep apnea and other services.
In 2016, Dr. Twaddell became received a Certified Trauma Physician thru the Academy of Chiropractic.
In 2019, Dr. Robert Twaddell will receive his Masters in Advanced Clinical Practice thru the National University of Health Science.
Dr. Twaddell has been a team physician for many schools and Fayetteville sports teams, including Fayetteville Roller Derby, Methodist University, Fayetteville Force indoor football, Cape Fear Heroes indoor football team, and the Fayetteville Woodpeckers Minor League Team.
If you have any questions about our Fayetteville chiropractor, or would like to learn more about chiropractic care at A Healthy Back, please call us at (910) 303-2690 today!